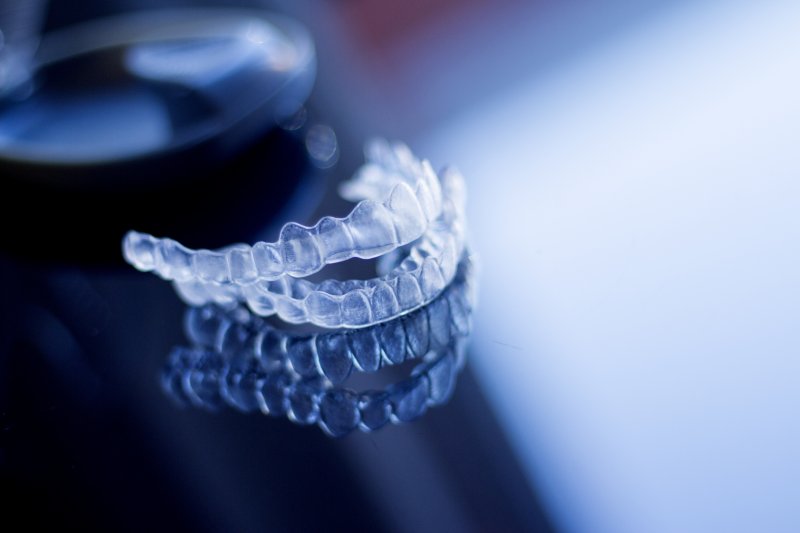 Are you wanting to get perfectly straight teeth? If so, then you're probably considering getting Invisalign. Not only are these aligners faster at correcting a smile, but they're also the most discreet option! While you'll be able to enjoy all the benefits of your improved teeth, there are several factors within the process you should be aware of. Read on to learn four things to know before getting Invisalign.
#1: A 22 Hour Wear Time
Invisalign is famous for being removable as well as discreet. However, to get you the best results in the quickest amount of time, you'll have to wear your aligners for 20-22 hours a day. This means the only moments you won't be wearing them is when you're either eating a meal or cleaning your teeth. Since you'll basically wear them at all times, your teeth may feel mildly sore from adjusting. This is natural, but you can ask your dentist about OTC pain relievers to help you become accustomed to wearing them.
#2: No Teeth Whitening
Most people use teeth whitening products to help brighten their smile, but your aligners should not be cleaned with these types of substances. They often contain chemicals, like hydrogen peroxide, or even abrasive agents that can damage or weaken the surface and effectiveness of your aligners. Instead, simply brush your Invisalign trays twice a day like with your natural teeth.
#3: Staining Occurs Easily
Since Invisalign trays can easily stain, you'll want to avoid foods and drinks like coffee, tea, soda, and especially tobacco products. To help prevent discoloring your aligners, practice a strict dental hygiene routine for when you finish eating and drinking to maintain a clean appearance.
#4: More Frequent Cleaning
Your Invisalign trays will have to come off every time you want to eat or drink, and this includes small snacks between meals. If you don't take them out, then you could risk food particles getting stuck underneath your aligners or between the teeth, which can hinder the adjustment process and allow bacteria to grow. The best way to avoid these issues is to brush after you eat or sip on anything other than water.
With these factors and proper care in mind, you can certainly look forward to completing the process in as quick as 12-18 months. And if you have any concerns about your treatment, you can always talk to your dentist to help you stay on track!
About the Practice
At Berkshire Dental Group, we are proud to offer outstanding and passionate dental care for all patients. Our two dentists—Drs. Sprague and Droege—are always happy to help you achieve your dream smile. We provide multiple dental treatments, including Invisalign to get you the perfectly straightened teeth you deserve. If you want to know more about the Invisalign process, visit our website or call (918) 250-9528.