Dental Implants – Broken Arrow, OK
A Complete Solution for Missing Teeth
For a long time, dentists had no way to replace the roots of missing teeth; all they could do was fill in the empty space in the mouth. Today, several important discoveries and advancements in dentistry have allowed dentists to replace entire smiles from the roots up, thanks to dental implants. At Berkshire Dental Group, we can complete the entire dental implant process in-house without having to refer you to a specialist. Call us today to learn more about the modern gold standard for replacing teeth - dental implants from our Broken Arrow, OK dentist.
Why Choose
Berkshire Dental Group
for Dental Implants?
In-House Dental Implant Placement
State of the Art CBCT Scans for Improved Accuracy
Bone Grafting and Socket Preservation Available
What are Dental Implants?
In dentistry, the term "implants" refers to small posts that are inserted into the jawbone to support crowns, bridges, or dentures. On its own, an implant looks like a screw, and it's typically made out of titanium, which is a biocompatible metal that is capable of fusing with the bone. The function of an implant is to hold the attached restoration in place while also stimulating the jawbone similar to a natural tooth root. When you want a tooth replacement that looks and feels like the real thing, implants are your best choice.
The 4 Step Dental Implant Process
Step 1: Consultation: We will confirm that you are able to get implants, decide how many posts are needed, and arrange for any required preliminary procedures.
Step 2: Surgery: Placing dental implants in the jawbone requires a minor surgery; we will provide pre- and post-op instructions as needed.
Step 3: Osseointegration and Abutment: Osseointegration takes place over the course of 3 to 6 months, and an abutment is eventually attached to each implant post.
Step 4: Final Restoration: An impression is taken so the final restoration will be designed. One final appointment is made to attach it to the abutment(s).
The Importance of Bone Density & Bone Grafting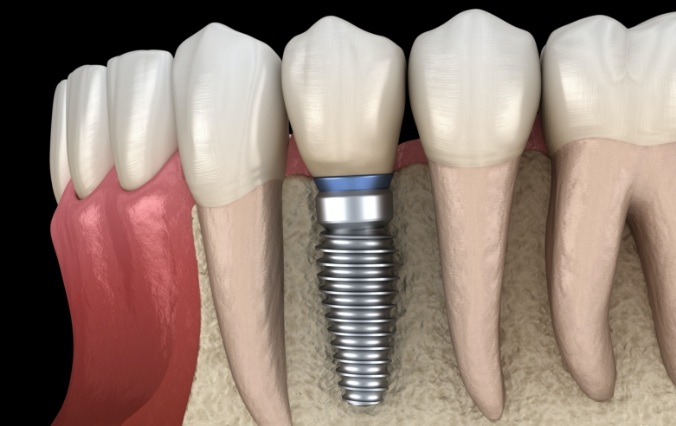 A healthy jawbone is the lynchpin of the dental implant process. Without an adequate supply of bone tissue, osseointegration will not take place, and your implants will come loose and fall out. During the initial consultation, we'll check bone density levels in your jaw and determine whether bone grafting is needed. If any bone loss has occurred, a bone graft can be used to restore the lost tissue so that a successful implantation can still take place.
Benefits of Dental Implants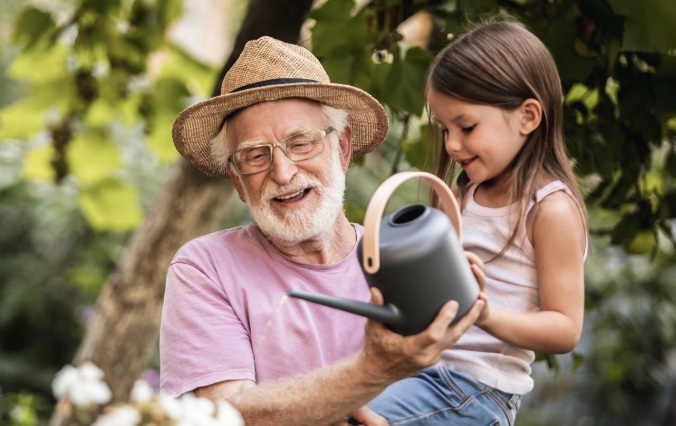 Can be used to replace a single tooth, multiple teeth, or the entire upper or lower arch
Are very easy to take care of via good oral hygiene practices
Can improve your confidence thanks to comfortable, natural-looking new teeth
Provide enough chewing power to eat virtually whatever you want
Maintain a youthful appearance by keeping the jawbone healthy
Have a long lifespan compared to dentures and bridges, to the point where they can last a lifetime
Have a high success rate of 95% even 20 years after the initial placement
Who Dental Implants Can Help?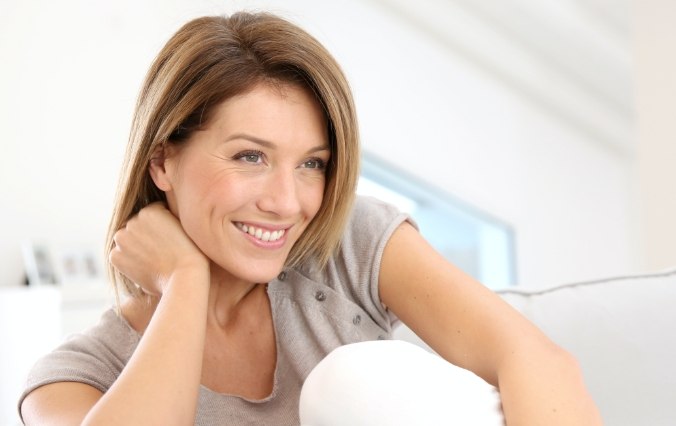 Almost anyone with missing teeth can benefit from dental implants once steps have been taken to address bone loss, gum disease, and any other issues that might get in the way of surgery. The process of getting dental implants will differ based on how many implant posts you need and the type of restoration they will support; both are primarily determined by the number of teeth that have been lost or need to be replaced.
Missing Single Tooth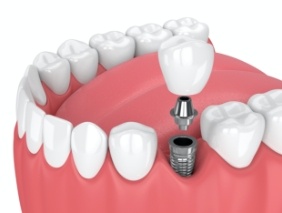 You only need one dental implant if a single tooth is missing. A crown made out of a specially shaded ceramic material will be attached to the post once the mouth has fully healed. Unlike a traditional bridge, implant crowns do not require any alterations to existing teeth to stay in place.
Missing Multiple Teeth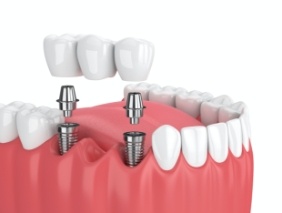 Two implants can be used to replace three or four consecutive teeth in a row with a dental bridge; this is the more conservative alternative to a traditional bridge. It is also possible to attach partial dentures to a minimal number of implants to fill in all the gaps throughout your smile with a single restoration.
Missing All Teeth
Traditional dentures sit on the gums and are held in place via suction; eventually they might lose their fit and develop a tendency to slip out of place. Dental implants keep your dentures secure, and they make it possible to brush and floss your prosthetic teeth as if they were real ones.
Learn More About Implant Dentures
Understanding the Cost of Dental Implants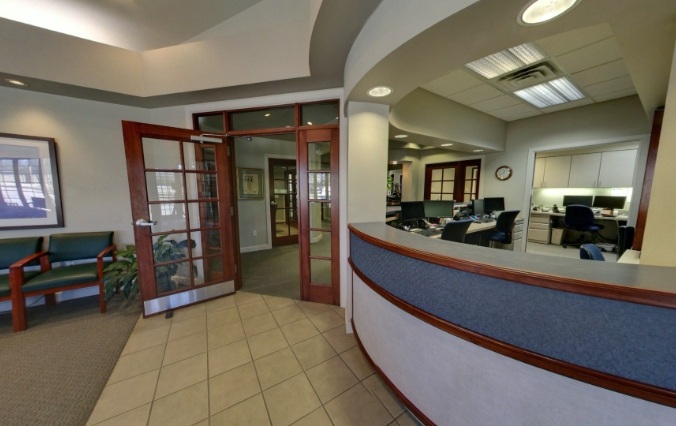 When considering any sort of dental treatment, cost is likely to be one of your primary concerns. We can give you an estimate once we've seen your mouth; there are a few factors, such as the number of implant posts required and the kind of preliminary procedures needed, that we can only determine after a thorough examination. It's important to recognize that getting dental implants is a long-term investment that will pay off in the long run in the form of a dazzling, healthy, fully functional smile.
Dental Implant FAQs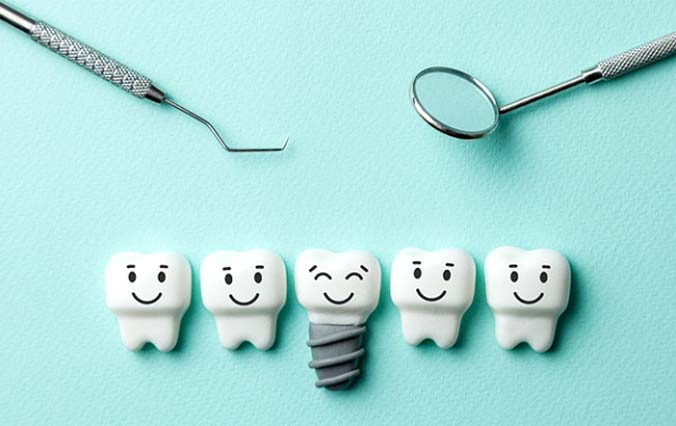 Dental implants are an ideal option for replacing missing teeth thanks to their numerous benefits. However, they are quite an investment, so it pays to be well-informed. Here are the answers to some of the most common questions we receive about dental implants in Broken Arrow. If you don't see the information that you're looking for below, don't worry. Give us a call and we'd be happy to answer your questions and get you started with an initial consultation.
How Long Do Dental Implants Last?
The lifespan of dental implants typically depends on the health and lifestyle choices of the patient. To ensure that you make the most out of your dental implants, be sure to brush, floss, and rinse with mouthwash on a daily basis. Attend your regular cleanings and checkups regularly, and avoid chewing on anything particularly hard or sticky. With proper maintenance, dental implants can last upwards of 30 years. This is several times longer that traditional bridges and dentures.
Does Getting Dental Implants Hurt?
The jawbone doesn't have many nerve endings, and your mouth will be numbed with local anesthetic before the procedure begins. You will also most likely be sedated, lowering your body's ability to register pain. While the surgery shouldn't hurt, your mouth may be sore for a few days afterward. Take recommended over the counter and prescribed pain medications as directed by your dentist. Cold compresses can also help. If discomfort worsens instead of improving after two or three days, give us a call.
Will I Have to Take Off Work for Dental Implant Surgery?
Most patients only need to take one or two days off to get dental implants. If your job is physically demanding, you should probably take at least three or four days off, as heavy exercise can divert blood from the implant site and delay healing. However, each case is different, so your dentist will be able to give you a more specific recommendation during your consultation.
Can I Get Dental Implants If I'm Diabetic?
If your diabetes is under control, your odds of dental implant success are generally comparable to those of nondiabetic patients. Uncontrolled diabetes and chronic high blood sugar can slow down the healing process, making it more difficult for your implant to integrate with your jawbone. If you're interested in getting dental implants but are diabetic, talk to your endocrinologist or primary care physician about getting your blood sugar levels under control beforehand.