Dental Implants – Broken Arrow, OK
A Complete Solution for Missing Teeth
For a long time, dentists had no way to replace the roots of missing teeth; all they could do was fill in the empty space in the mouth. Today, several important discoveries and advancements in dentistry have allowed dentists to replace entire smiles from the roots up, thanks to dental implants. At Berkshire Dental Group, we can complete the entire dental implant process in-house without having to refer you to a specialist. Call us today to learn more about the modern gold standard for replacing teeth - dental implants from our Broken Arrow, OK dentist.
Why Choose
Berkshire Dental Group
for Dental Implants?
In-House Dental Implant Placement
State of the Art CBCT Scans for Improved Accuracy
Bone Grafting and Socket Preservation Available
What are Dental Implants?
In dentistry, the term "implants" refers to small posts that are inserted into the jawbone to support crowns, bridges, or dentures. On its own, an implant looks like a screw, and it's typically made out of titanium, which is a biocompatible metal that is capable of fusing with the bone. The function of an implant is to hold the attached restoration in place while also stimulating the jawbone similar to a natural tooth root. When you want a tooth replacement that looks and feels like the real thing, implants are your best choice.
The 4 Step Dental Implant Process
Dental implants are considered the gold standard of tooth replacement and for a good reason. Even though the process takes several months to complete, patients find the incredible benefits well worth the time and effort. At Berkshire Dental Group, we're proud to be able to offer this top-tier treatment to you. While every patient's treatment plan will look slightly different, there are four main steps that you can expect regarding dental implants in Broken Arrow.
Initial Dental Implant Consultation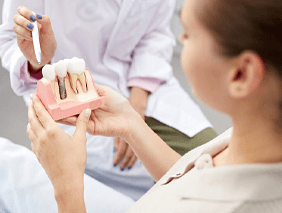 The first step on your journey toward a complete and fully functioning smile is a consultation with our dentist. During this appointment, he will conduct an oral examination, review your dental health and medical history, ask about your goals to determine whether this treatment is right for you, and make sure you understand how dental implants work in Broken Arrow. Based on the findings, he may need to perform some preliminary procedures (gum disease therapy, tooth extractions, bone grafting) to prepare your mouth.
Dental Implant Surgery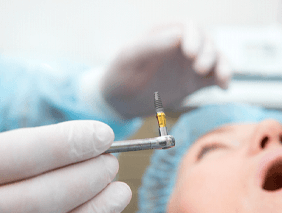 Dr. Sprague can complete the entire dental implant process in-house to ensure a top-notch result for your smile. In preparation for implant placement, he numbs the area to ensure you're completely comfortable during the procedure. Then, he will make small incisions in the gums, insert the implants at precise angles and locations in the jawbone, and suture your gums shut. Afterward, he will place a protective cap over the posts to keep your mouth safe.
Dental Implant Osseointegration & Abutment Placement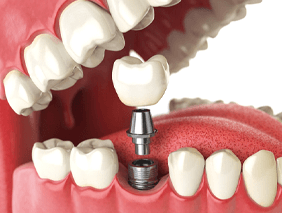 After approximately 3-6 months, the dental implant will integrate with your jawbone via a natural process called osseointegration. Once that step is complete, you'll return to the office for a second, smaller surgery to place the abutments on top of the posts. While you heal, your final restorations will be made using impressions taken of your mouth.
Delivery of Dental Implant Restorations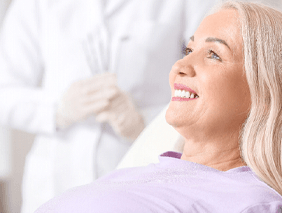 A trusted dental laboratory will craft each dental implant restoration so that it fits perfectly inside your mouth. When it's ready, we'll call you back to the office and attach your crown, bridge, or denture to your abutments. Your implant dentist in Broken Arrow will make any final adjustments to ensure your new smile is exactly what you wanted. You'll be ready to enjoy your newly rebuilt grin that same day!
Benefits of Dental Implants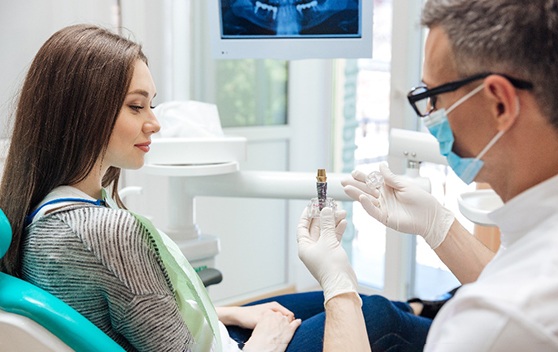 If you didn't already know, dental implants are quite popular as a way to replace missing teeth. They're so well-regarded, in fact, that dentists place over 500,000 of them every year! Such facts, though, make sense when you consider how dentists place these prosthetics. This feature ensures the benefits of dental implants in Broken Arrow are many and unique. Patients, then, can expect a better quality of life following the treatment. If you'd like to learn more, just keep reading or contact our office for details.
Day-to-Day Benefits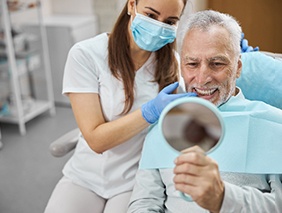 Before anything else, you'll likely notice implants' day-to-day benefits. After all, these artificial teeth help with various everyday tasks. In particular, they'll offer the following:
A Beautiful Smile – Naturally, implants restore your smile with new teeth. Their porcelain material, especially, ensures they blend seamlessly with your other pearly whites. The result is that they'll boost your body image and sense of self-confidence.
Better Eating & Speaking – Implants fuse with your jawbone, making them as steady and secure as natural teeth. As such, they restore more of your bite force than dentures or bridges can. From there, you can eat food and speak normally.
Easy Maintenance – Implants are easier to clean than dentures or bridges. You can care for them like natural teeth – brush them twice daily, floss them once daily, and rinse them with mouthwash as needed.
Health Benefits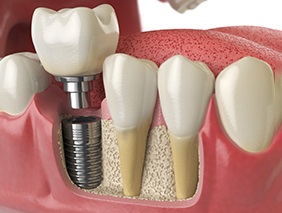 Of course, implants do more than make specific tasks easier. They also improve your body's health. After a while, you can expect them to result in the following:
A Stronger Jaw – When you fail to treat tooth loss, your jaw will erode from lack of stimulation. Fortunately, implants can "fill in" for natural teeth, stimulating your jawbone to preserve its bone density.
A Healthier Diet – By improving your chewing ability, implants let you eat a wider variety of foods. They thus give you access to a more varied, nutritious diet that bolsters your body!
Cleaner Teeth – Since implants are easy to clean, they often help you develop better oral health and a lower risk of overall health issues.
Long-term Benefits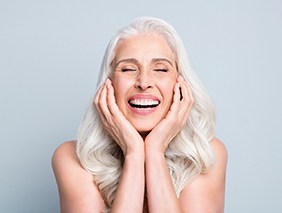 The long-term benefits of implants in Broken Arrow make them worthwhile. The most common ones, for instance, are:
Low Risk of Failure – When done by a qualified dentist, implant placement is almost always successful. Its average success rate, in fact, stands at 95% even ten years after the surgery!
Long Lifespan – In many cases, implants can last you a lifetime. Their average lifespan is 15-20 years, while the highest is 30 years or more with proper care.
Good Investment – Often enough, implants save you time and money over the years. Their lifespan (see above) means they need less frequent repair or replacement than other restorations. As a result, you don't have to pay as much in terms of follow-up visits.
Who Dental Implants Can Help?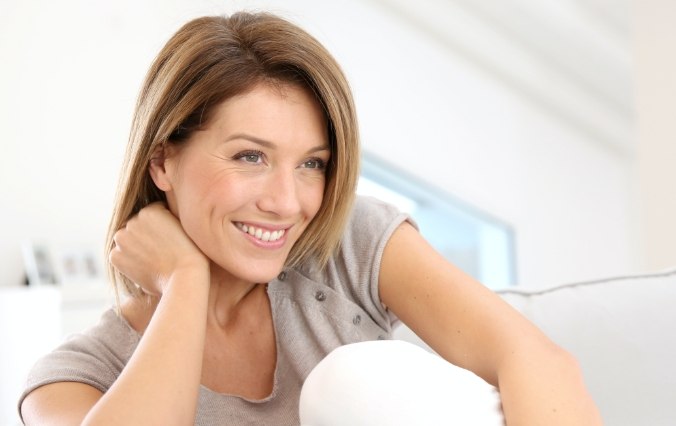 Almost anyone with missing teeth can benefit from dental implants once steps have been taken to address bone loss, gum disease, and any other issues that might get in the way of surgery. The process of getting dental implants will differ based on how many implant posts you need and the type of restoration they will support; both are primarily determined by the number of teeth that have been lost or need to be replaced.
Missing Single Tooth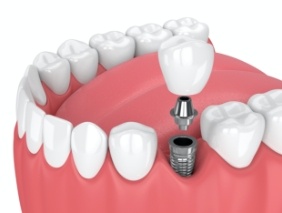 You only need one dental implant if a single tooth is missing. A crown made out of a specially shaded ceramic material will be attached to the post once the mouth has fully healed. Unlike a traditional bridge, implant crowns do not require any alterations to existing teeth to stay in place.
Missing Multiple Teeth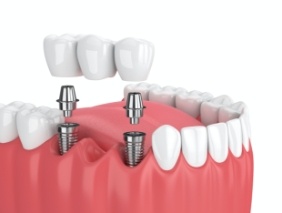 Two implants can be used to replace three or four consecutive teeth in a row with a dental bridge; this is the more conservative alternative to a traditional bridge. It is also possible to attach partial dentures to a minimal number of implants to fill in all the gaps throughout your smile with a single restoration.
Missing All Teeth
Traditional dentures sit on the gums and are held in place via suction; eventually they might lose their fit and develop a tendency to slip out of place. Dental implants keep your dentures secure, and they make it possible to brush and floss your prosthetic teeth as if they were real ones.
Learn More About Implant Dentures
Understanding the Cost of Dental Implants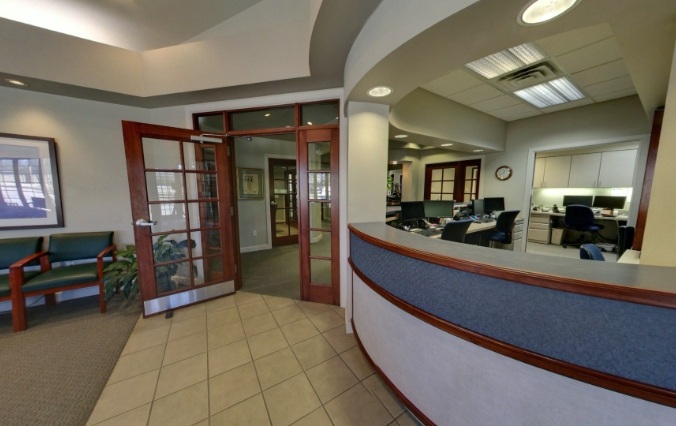 When considering any sort of dental treatment, cost is likely to be one of your primary concerns. We can give you an estimate once we've seen your mouth; there are a few factors, such as the number of implant posts required and the kind of preliminary procedures needed, that we can only determine after a thorough examination. It's important to recognize that getting dental implants is a long-term investment that will pay off in the long run in the form of a dazzling, healthy, fully functional smile.
Advanced Dental Implant Procedures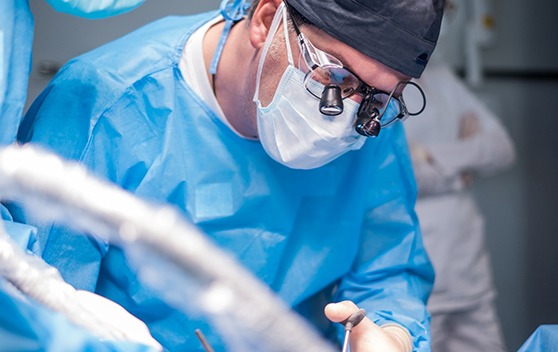 If you aren't initially a good candidate for dental implants, this doesn't mean that they can't be an option for you in the future. There are a variety of advanced procedures available to prepare your mouth to support a new smile. These procedures may lengthen the timeline of your treatment, but they will also ensure that your dental implants last for many years down the road.
Bone Grafting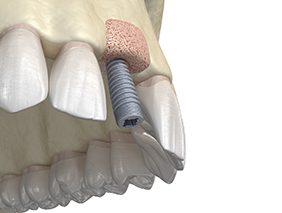 A healthy jawbone is the lynchpin of the dental implant process. Without an adequate supply of bone tissue, osseointegration will not take place, and your implants will come loose and fall out. During the initial consultation, we'll check bone density levels in your jaw and determine whether bone grafting is needed. If any bone loss has occurred, a bone graft can be used to restore the lost tissue so that successful implantation can still take place.
Sinus Lifts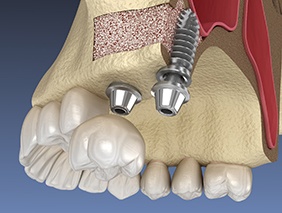 If the upper jaw deteriorates, the sinus cavities may be too close to where the dental implants need to be placed. Ultimately, the implant could poke into the cavity. This is where a sinus lift comes into play. A sinus lift is a type of bone grafting that addresses this specific situation. First, the gums are opened, exposing the thin membrane that holds the sinuses. This is pushed back and out of the way before grafting material is added to hold it there. After several months of healing, dental implants can be placed.
Ridge Expansion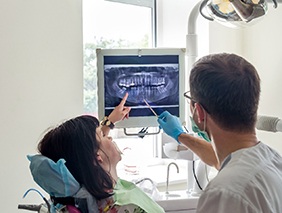 This procedure is performed when the jaw isn't wide enough to properly support upper implants. For this treatment, the ridge bone is divided and wedged apart. This creates a space between the divided sections of bone that can then be filled with bone grafting. Once the area has completely healed, you will be ready to get a dental implant placed into the area.
Socket Preservation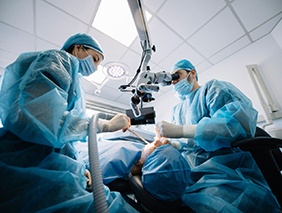 Tooth roots are incredibly important, as they stimulate the jawbone to keep it healthy. When a tooth is lost, the bone tissue in that area is at risk of breaking down and your neighboring teeth will start to shift out of place as a result. To protect your jaw's bone tissue and avoid the need for additional bone grafting in the future, socket preservation can be performed. This involves placing donated bone material on the socket, covering it with a collagen membrane, and closing it with sutures. This way, it will make it much easier to place a dental implant in the future.
Dental Implant FAQs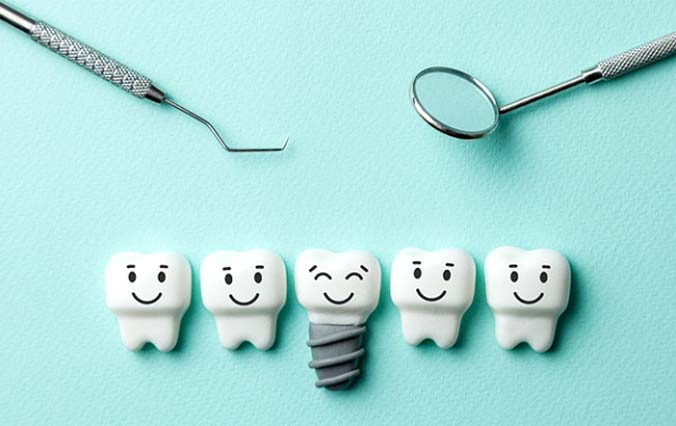 Dental implants are an ideal option for replacing missing teeth thanks to their numerous benefits. However, they are quite an investment, so it pays to be well-informed. Here are the answers to some of the most common questions we receive about dental implants in Broken Arrow. If you don't see the information that you're looking for below, don't worry. Give us a call and we'd be happy to answer your questions and get you started with an initial consultation.
How Long Do Dental Implants Last?
The lifespan of dental implants typically depends on the health and lifestyle choices of the patient. To ensure that you make the most out of your dental implants, be sure to brush, floss, and rinse with mouthwash on a daily basis. Attend your regular cleanings and checkups regularly, and avoid chewing on anything particularly hard or sticky. With proper maintenance, dental implants can last upwards of 30 years. This is several times longer that traditional bridges and dentures.
Does Getting Dental Implants Hurt?
The jawbone doesn't have many nerve endings, and your mouth will be numbed with local anesthetic before the procedure begins. You will also most likely be sedated, lowering your body's ability to register pain. While the surgery shouldn't hurt, your mouth may be sore for a few days afterward. Take recommended over the counter and prescribed pain medications as directed by your dentist. Cold compresses can also help. If discomfort worsens instead of improving after two or three days, give us a call.
Will I Have to Take Off Work for Dental Implant Surgery?
Most patients only need to take one or two days off to get dental implants. If your job is physically demanding, you should probably take at least three or four days off, as heavy exercise can divert blood from the implant site and delay healing. However, each case is different, so your dentist will be able to give you a more specific recommendation during your consultation.
Can I Get Dental Implants If I'm Diabetic?
If your diabetes is under control, your odds of dental implant success are generally comparable to those of nondiabetic patients. Uncontrolled diabetes and chronic high blood sugar can slow down the healing process, making it more difficult for your implant to integrate with your jawbone. If you're interested in getting dental implants but are diabetic, talk to your endocrinologist or primary care physician about getting your blood sugar levels under control beforehand.
Dental Implant Failure & Salvage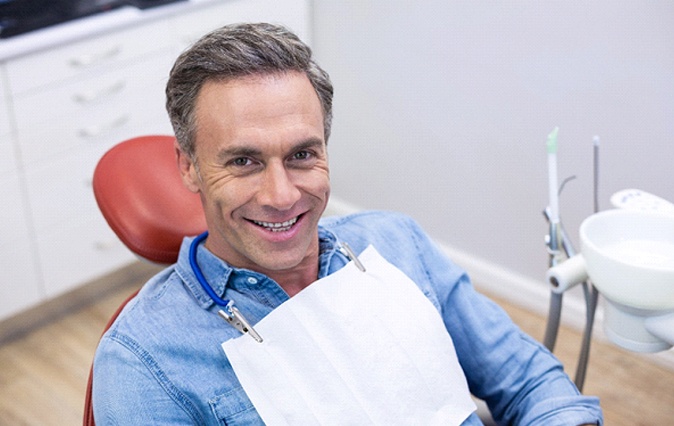 A failed dental implant in Broken Arrow is highly unlikely, especially since the success rate for dental implant placement is an estimated 95%. However, some instances can occur that require individuals to seek the help of a trusted professional who can repair problem areas. When complications arise from the placement of these titanium posts, proper treatment methods must be used to improve the state of one's oral health and smile.
Maintaining & Caring for Your Dental Implants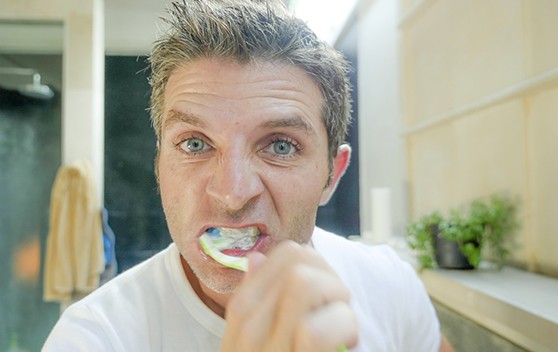 With the right aftercare, dental implants can last upwards of 30 years or even the rest of your life! This makes them the longest-lasting tooth replacement option available today! However, they will only last this long if you take good care of them. Here are the steps you should be taking to keep your dental implants in good shape.
Make Oral Hygiene a Priority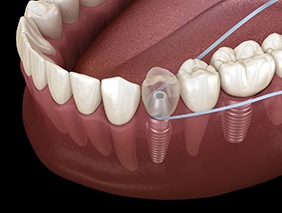 Dental implants can't get cavities themselves, but you should still practice excellent oral hygiene. In addition to keeping your surrounding teeth in good shape, sticking to an excellent oral hygiene routine can prevent other dental problems, like gum disease, that can cause your implants to fail. Remember to brush, floss, and rinse with mouthwash every day.
Eat a Healthy Diet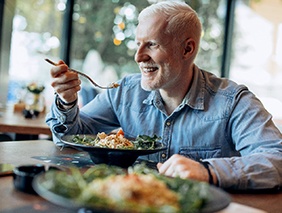 One of the many benefits of getting dental implants is the fact that you don't need to worry about any eating restrictions. You can easily enjoy nutritious meals without struggling to chew. Just remember that enjoying too many foods that are hard, sticky, or sugary can be problematic for your oral health, so it pays to be cautious.
Break Bad Habits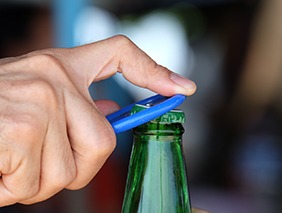 Refrain from smoking or using other tobacco products immediately after your dental implant placement. This can slow down healing and increase your risk of developing an infection. Don't use your teeth as tools either. You could end up accidentally damaging your dental implants or surrounding teeth. Instead, try to find some scissors, pliers, a bottle opener, or another tool that can help you complete your task safely.
Protect Your Dental Implants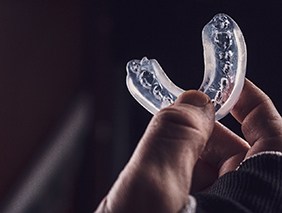 Your dental implants may be strong, but they aren't completely indestructible. You should always wear a mouthguard to protect your dental implants and natural teeth when participating in sports. If you grind your teeth at night, ask about a nightguard to protect your implants from additional wear and tear.
Schedule Regular Dental Checkups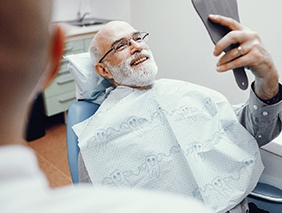 You should always attend regular cleanings and checkups twice a year. This way, we can monitor your dental implants and spot any issues as easily as possible. By catching potential problems now, you can keep them from becoming more serious and leading to greater complications.