Dentures – Broken Arrow, OK
Enjoy a Full Smile Once Again
As you might know, tooth loss affects not only your looks but also your quality of life. It starts with an unsightly smile, sure, but it'll lead to real health problems if left untreated. Luckily, you can always fix the problem with some dentures in Broken Arrow. Offered by Berkshire Dental Group, these prosthetics restore even the most empty of smiles! If you'd like to learn more about them, just keep reading or book a visit with our office soon.
Who is a Good Candidate for Dentures?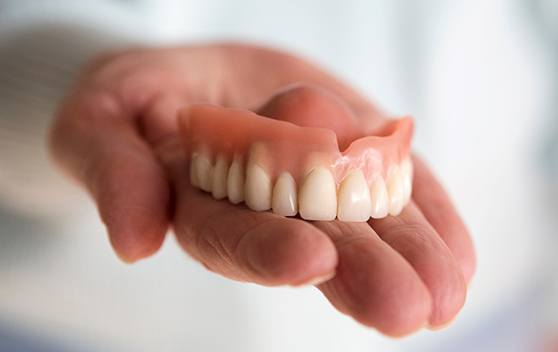 Overall, the best candidates for dentures are those enduring the effects of missing teeth. Such people struggle to eat, speak, or smile without their pearly whites.
That said, the best way to confirm candidacy is by consulting Dr. Sprague at our practice. Doing so lets him perform an oral exam to see if dentures are right for you. In the event they are, he and our team will draft a treatment plan that meets your needs.
Of course, not everyone with tooth loss would benefit from dentures. For example, another treatment might be better if someone doesn't lack all the teeth along an arch.
Types of Dentures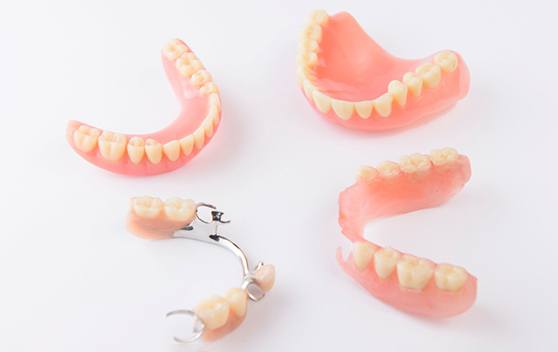 Among other things, the consultation will help you know what to expect from treatment. In particular, it'll confirm the type of denture that best meets your needs. The visit will thus end with us suggesting one of three kinds:
Partial Dentures
Per their name, partial dentures only replace a few missing teeth. They're thus secured with metal claps that loop around other pearly whites.
In general, partial dentures consist of tooth replacements attached to a gum-colored plastic base. Since they fill tooth gaps, the prosthetics also prevent other teeth from tilting.
Full Dentures
Unlike partial ones, full dentures replace an entire arch's worth of teeth. Therefore, they stay in place with natural suction instead of clasps.
Still, the bases of full dentures don't differ much from partials. The former ones also rely on acrylic, gum-colored resins. The only major difference is that this type of denture sits snugly on the gums.
Implant Dentures
For something more stable than the previous options, you may want to consider implant-retained dentures.
As their name implies, implant dentures attach to dental implants — restorations surgically placed into the jawbone. Since these implants root themselves in your jaw, they stimulate it to prevent deterioration. Plus, their fusion ensures your new teeth don't slip or fall from your mouth.
The Benefits of Dentures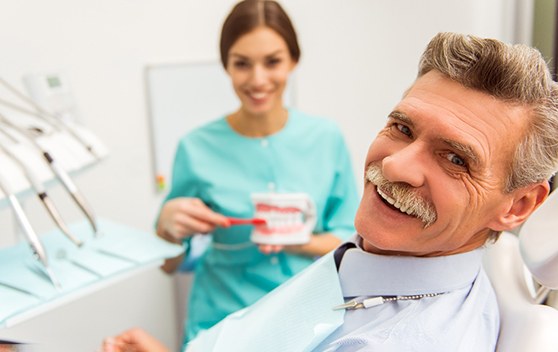 Ultimately, you'd reap many benefits from dentures in Broken Arrow. These include the following:
Better Eating – Dentures restore some of your ability to chew and bite food. As a result, they enable you to eat a more nutritious, wider-ranging diet.
Natural-looking Results – Dentures often look lifelike and natural thanks to today's dental technology. No matter the type, you can count on them to give you a nice smile.
More Confidence – By filling your smile gaps, dentures help you feel more confident in your appearance.
Strong Lifespan – So long as you give them proper care, dentures can last well over a decade!