Implant Dentures – Broken Arrow, OK
The Permanent Answer for Total Tooth Loss
Have you suffered total tooth loss? When all your natural teeth are missing, you may think that dental implants are no longer an option for your smile, but that's not true! You don't have to settle for ill-fitting, unstable dentures for the rest of your life. Implant dentures offer another longer-lasting, secure alternative that you should consider when replacing your missing teeth. If you are interested in learning more about implant dentures, keep reading and then reach out to our team to schedule a consultation with Dr. Sprague .
What Are Implant Dentures?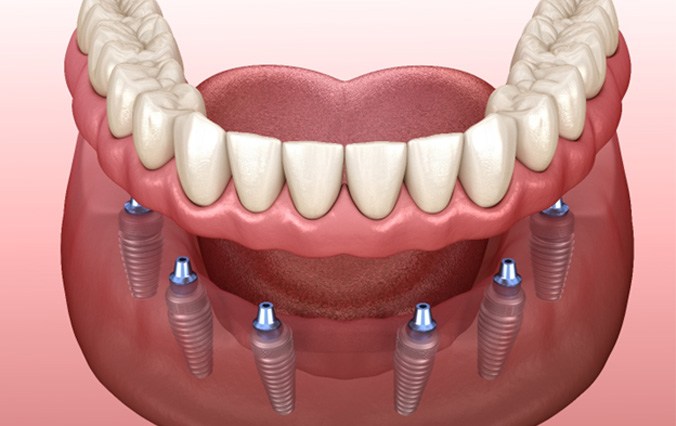 Like an implant crown or bridge, implant dentures are restorations that are held in position by titanium, screw-like implant posts. These posts, usually four to six, are strategically placed throughout the arch and act like natural roots by becoming embedded directly in the jawbone. Then, the dentures are attached to them, replacing the entire tooth structure from top to bottom. Needless to say, implant dentures are the closest option to getting your real teeth back!
Fixed/Permanent Implant Dentures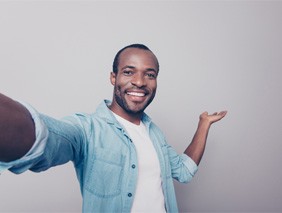 Most of the time, patients want their replacement teeth to feel as natural as possible. We accomplish this by bonding the dentures to the anchored implants. As a result, only a dentist is able to remove the false teeth, which means you don't have to think twice about whether your implant dentures will stay in place.
Removable Implant Dentures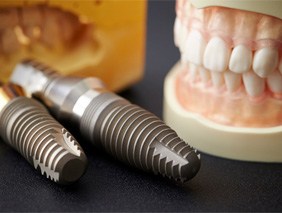 If you so choose, you can have your implant dentures "snap" into position instead of being permanently attached. This way, you can easily remove them for convenient cleaning. Just let us know that you'd like this option so that we can customize your treatment and meet your needs.
The Implant Denture Process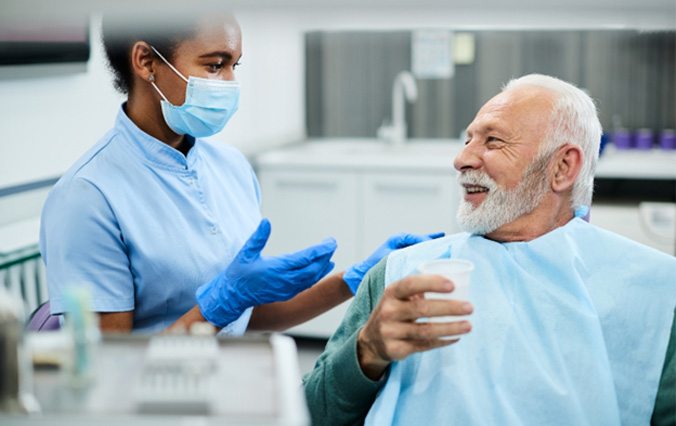 Getting implants, regardless of the restoration on top, starts off the same way—with a consultation. During that appointment, we'll talk about your goals and needs and create a personalized treatment plan. After taking care of any preliminary work, such as gum disease therapy, bone grafts, or tooth extractions, we will surgically position the implant posts into the jawbone and close the gums over them. In about six months, the bone should grow around the posts, at which point, we take impressions of your upper and lower arches for your dentures. When they're done, we can then attach the dentures to the implants, completing your smile!
Am I a Candidate for Implant Dentures?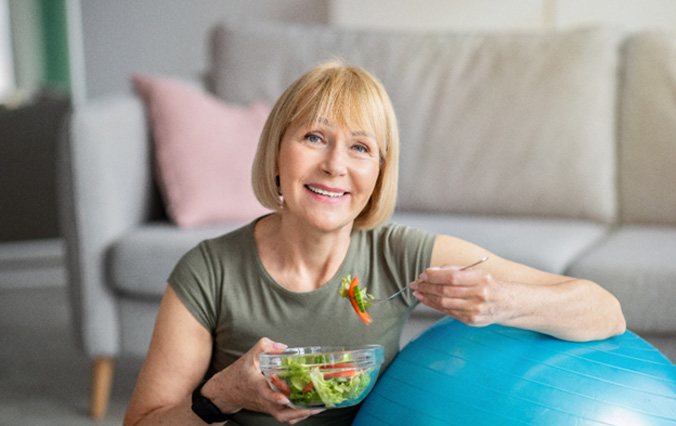 If you would like to qualify for implant dentures, you need to meet the following criteria:
You must be in good general health . For example, if you have diabetes, it needs to be properly controlled. Plus, you need to be healthy enough to undergo minor surgery.
You must have excellent oral health , meaning no gum disease or other oral infection.
You need to have a robust enough jawbone to support the implants. Bone tissue grafts can correct this problem.
Benefits of Combining Dentures & Dental Implants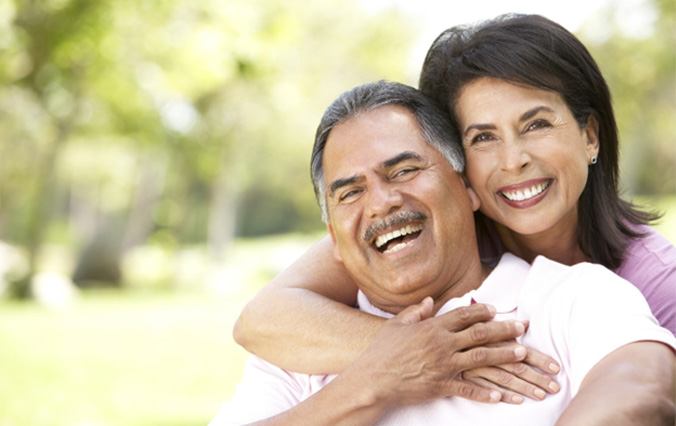 Those who have worn traditional dentures for any amount of time will tell you that they come with a lot of problems, like slipping out of place, weakened bite, and much more. Attaching your dentures to implants, however, corrects these issues. With implant dentures, you can enjoy about 70 percent of your original biting force (compared to about 25 percent with normal dentures). You also don't have to worry about your dentures feeling unstable or slipping while you eat, talk, or laugh, which can give you confidence in your smile again!