Invisalign – Broken Arrow, OK
Making it Easier to Get Straighter Teeth
A row of perfectly straight teeth looks gorgeous in photographs, and it makes a great first impression during an important interview or meeting. But many adults are hesitant to seek orthodontic care for their crooked smiles because they hate the idea of having to wear metal braces. Here at Berkshire Dental Group, we can show you a simpler solution: comfortable, aesthetically pleasing aligners from Invisalign in Broken Arrow, OK! Call us today to schedule a consultation and learn more.
Why Choose
Berkshire Dental Group
for Invisalign?
Gold Plus Invisalign Provider
Advanced Progress Monitoring
Faith-Based, Compassionate Care
How Invisalign Works
Plastic trays will be created to slowly push your teeth into place. Each tray is worn for about two weeks at a time; they should stay in your mouth for 20 to 22 hours every day. Our dental office uses a dental monitoring app to help you track your progress. You can take photos of your teeth and send them to us so that we can confirm that everything is on track. This cuts down on appointment times while also giving you the benefit of an Invisalign expert's oversight.
Benefits of Invisalign
Comfort: Instead of metal wires and brackets irritating your gums, you can wear aligners made out of smooth plastic.
Convenience: Removable aligners let you maintain your normal oral hygiene routine, and you can eat whatever you want without fear of damaging your orthodontic appliance.
Aesthetics: Virtually invisible aligners allow you to smile confidently during your treatment.
Efficiency: Most Invisalign cases are completed within 8 to 18 months.
Fewer Appointments: Invisalign doesn't need to be adjusted, so it doesn't require as many appointments as braces.
Invisalign with DentalMonitoring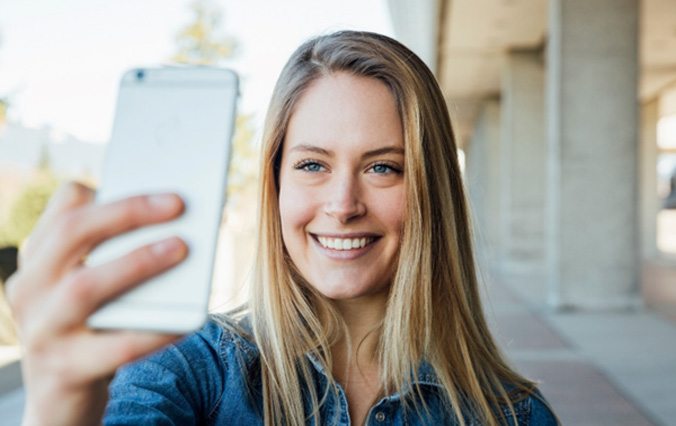 DentalMonitoring is an AI built using over half a billion photographs that is used to analyze, detect, and identify over 130 oral events just using images taken with a smartphone. It allows our team to virtualize and automate much of the orthodontic process outside of the clinical aspects. What this means for patients is that they have to make fewer trips to the office and can easily communicate with our team from the comfort of home. Whether it's a consultation, progress check, or question, all a patient has to do is snap a few pictures of their teeth with DentalMonitoring and send them to us. The AI scans them and provides our team with a large amount of data that allows us to give answers just like if someone were sitting in the office.
Understanding the Cost of Invisalign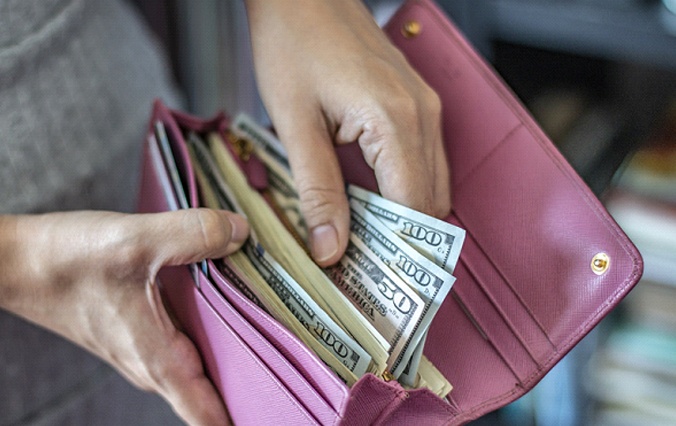 If you are looking to straighten your smile without the need for metal brackets and wires, Invisalign is likely the perfect solution! It has so many unique benefits that you can't find with other orthodontic options. However, it's crucial that you understand the cost of treatment so that you don't end up with unnecessary surprises. To learn exactly how much Invisalign will cost for you, schedule a consultation with us. In the meantime, here are some things to consider.
Factors that Affect the Cost of Invisalign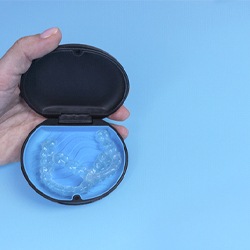 The cost of Invisalign treatment will vary from person to person based off a few different factors. Here are some of the more prominent ones:
Number of Arches: The vast majority of people who undergo Invisalign treatment will straighten both their upper and lower teeth at the same time. However, in certain cases, only one arch needs to be addressed. If this is the case for you, this will result in a lower cost.
Complexity: If you have severe misalignment issues, your treatment is likely to cost more. Closing a few small gaps is cheaper than correcting a significant bite problem.
Length of Treatment: A longer treatment time will mean more aligners and a higher cost.
Invisalign VS Smile Direct Club™: Which Costs More?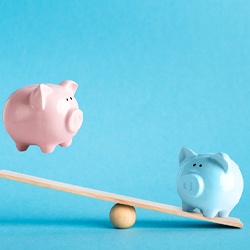 When a patient is looking for a "quick fix," lower budget options, like Smile Direct Club™, may seem temping. However, a lower cost doesn't always mean that it's the best option. While the price is generally more affordable than Invisalign, Smile Direct Club™ has a "do it yourself" approach with little-to-no oversight from a professional. Ultimately, this means more room for errors to be made. You could even end up with serious problems that will need to be treated by a professional anyway.
With Invisalign, you have the oversight of our dentists for every step along the way. Invisalign is professionally made, uses highly accurate impressions, and results in a more successful treatment overall. The cost difference is worth it for a smoother, stress-free orthodontic treatment.
Does Dental Insurance Cover Invisalign?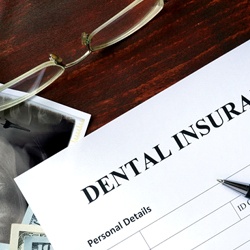 Some dental insurance plans include coverage for orthodontic treatment, so you should check with your provider to see if this is the case for you. Our team is also available to help you understand what your plan consists of. If you have any questions, don't hesitate to give us a call.
Options for Making Invisalign Affordable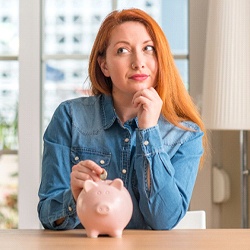 If you don't have dental insurance, you aren't necessarily left completely on your own. We work with CareCredit – a third-party financing company that can break the cost of your treatment into manageable monthly installments with little-to-no interest. We also have an in-house membership plan that allows for discounts on preventive, basic, and major dental services, including orthodontics. Contact us to learn more.
Schedule your initial consultation to learn more about the financial details of Invisalign. We're eager to help you achieve the smile of your dreams!
Invisalign FAQs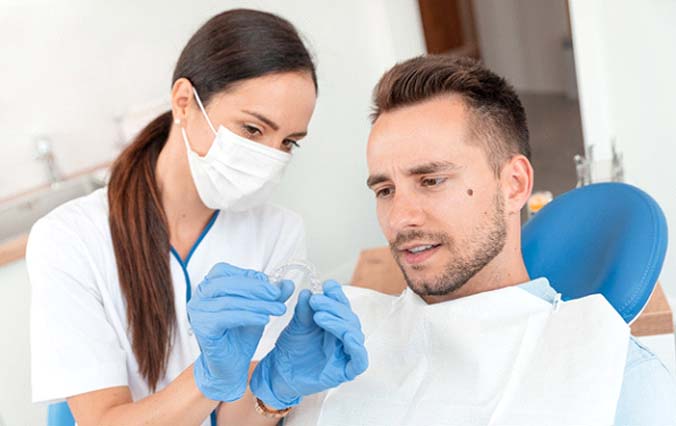 Are you ready for a straighter smile? Invisalign has so many benefits that you don't experience with regular braces, but you may still have some unanswered questions. Here are the answers to some of the most common queries we receive about Invisalign in Broken Arrow. If you don't see the information that you're looking for below, don't worry! Give us a call , and we'd be happy to answer your questions and get you started with an initial consultation,
What Does Invisalign Look Like?
Invisalign is made with clear plastic, so the aligners are visible when outside of the mouth, but very difficult to detect once they are being worn. With proper maintenance, patients are able to keep their aligners clean, clear, and discreet. Unlike traditional braces that require brackets and wires, Invisalign clear aligners allow patients to achieve straight teeth without compromising their appearances. In some situations, patients will require attachments, buttons, or elastics to help with the alignment process. However, these items aren't made of clear plastic, so they may be slightly more visible than the rest of the aligners.
Does Invisalign Hurt?
Invisalign is not a painful treatment. Its smooth plastic design makes it one of the most comfortable orthodontic treatment options. When you first get Invisalign, there is an adjustment period, so you may experience slight soreness, but this will go away as you get used to the treatment. Invisalign works by slowly shifting your teeth into proper position using a series of aligners. Each time you switch to a new set, you may experience some pressure, but this just shows that the treatment is working! To help with the adjustment, try taking over-the-counter pain relievers as directed, and use a cold compress.
Can You Eat with Invisalign?
One of the main advantages of Invisalign is that they are completely removeable, allowing you to take your aligners out when it's time to eat. Eating with your Invisalign in your mouth will not only damage your aligners, causing cracks and stains, but it puts unnecessary pressure on your teeth. The only item that you should be consuming while wearing your Invisalign is water. Otherwise, take your aligners out.
Can You Get Invisalign After Braces?
This all depends on your specific needs. Traditional braces are better able to correct more severe overbites, underbites, and crossbites than Invisalign can. This is why many patients elect to get traditional braces. If your teeth have grown crooked or misaligned years after you've completed treatment with braces, Invisalign will likely be able to help with this problem. During your initial consultation, we will be able to determine whether or not Invisalign is right for you.