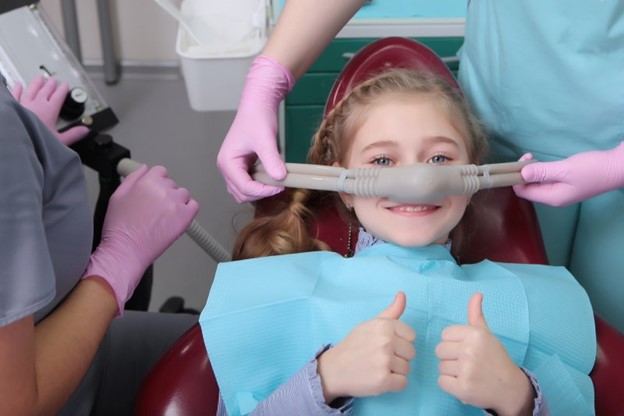 If going to the dentist's office fills you with fear, anxiety, and existential dread, you are not alone; roughly 9 – 20% of US adults are affected with "dentophobia." Because of this, sedation dentistry has emerged as one of the most popular solutions for treating those who would rather be anywhere else in the world than sitting in the dentist's chair. Keep reading as we answer a few of the most common questions concerning sedation dentistry and talk about why it's a great answer for dental-related anxiety and more.
What Is Sedation Dentistry?
The dental field has seen many advancements throughout the years, one of which is the emergence of sedation dentistry. Most dental procedures involve only a local anesthetic—but sedation dentistry involves sedating the patient to relieve any fear or anxiety they might have, and to make their treatment process go as smoothly as possible. Dentists have access to several safe, non-habit-forming medicines and drugs they can use to help patients relax before and during dental procedures.
What Types of Sedation Dentistry Are There?
Sedation dentistry is an umbrella term that encompasses different types of sedation methods, including:
Nitrous oxide – Typically for milder cases of anxiety, the patient is given nitrous oxide (laughing gas). This causes feelings of euphoria and blocks pain, but you'll still be conscious and responsive to commands. It wears off very quickly after the appointment, too.
Oral conscious sedation – This involves the use of oral medication before the appointment combined with nitrous oxide. It provides a deeper level of relaxation than solely using nitrous oxide.
IV sedation – This is ideal for lengthy or complex procedures; a sedative is delivered directly into your bloodstream, providing the deepest level of relaxation possible. This leads to most patients actually sleeping during their treatment process!
What Are the Benefits of Sedation Dentistry?
Some of the benefits of sedation dentistry include, but aren't limited to:
Provides relief for dental-related anxiety.
Helps patients with sensitive gag reflexes.
Useful for lengthy or complex procedures.
Assists those who struggle to remain sitting for a long time.
Provides pain relief.
Who Is Eligible for Sedation Dentistry?
Although sedation dentistry has a ton of different applications and uses, it's not for everyone—as with any type of dental procedure, your dentist will need to evaluate your health beforehand. Patients with conditions that make breathing difficult or patients with allergies to specific medications are not candidates. Patients who are pregnant are also not eligible. Your dentist will be able to determine if sedation dentistry is right for you—and for most people, it is a viable option!
Even though it really shines when combating dental-related anxiety, sedation dentistry has many other applications that can assist patients with achieving their oral health goals. If you think you'd benefit from sedation dentistry, talk with your dentist to see if it's right for you.
About the Practice
Berkshire Dental Group is proud to serve patients and families in the Broken Arrow community under the leadership of Dr. TJ Sprague and Dr. Dylan Droege! They both have several collective years of experience and expertise in a wide variety of fields and place an emphasis on patient comfort above all else. Their practice offers many services including sedation dentistry! If you have any questions about sedation dentistry or want to schedule an appointment, feel free to reach out through the practice's website or by phone: (918) 250-9528.